Day 1:   Arrival in Annecy :
Arrival in Annecy, transfer to your hotel The Imperial Palace****
Situated in a heart of wooded park on the bank of Lake Annecy, its majestic "Belle Epoque" facade make this hotel a stunning destination set amid lake and the mountains.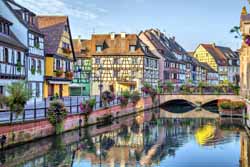 Dinner at the restaurant of your hotel.
Overnight in your hotel.
Day 2:   Annecy & The banks of Annecy Lake (0km):
Breakfast at your hotel.
In the morning, visit by foot of the old center of Annecy.
The capital of the Haute-Savoie is renowned for its wonderful environment and high quality of life. It has retained its architectural and historic heritage, restored its old quarter, restored the lake water's transparency, and developed its canals to which it owes its name of the Venice of the Alps.
Visit of the town, starting with Le Paquier, a park on the banks of the lake, where you have sumptuous view over the surrounding between lake and mountains. Passing through the Lover's bridge to the Europe Garden park, following the banks of the lake, you will arrive in the Old town.
Full of picturesque narrows cobbled streets, charming shops and boutiques, you will discover the monuments of the medieval time, le Palais de l'Isle, former prison, and Justice court of the Duke of Savoie, the Saint Claire's street, the most beautiful street with romantic arch, the door Saint Claire which protected the entry of the town, and the Chateau d'Annecy, former residence of the Dukes of Geneva.
Visit of this medieval fort, now museum of regional and contemporary Art. Its offers stunning view over the surrounding because of its location on the banks of the mountain, overlooking the entire old town.
Lunch of local specialties at gastronomic restaurant in Annecy